Article: How to Dress a Baby Boy (7 Tips)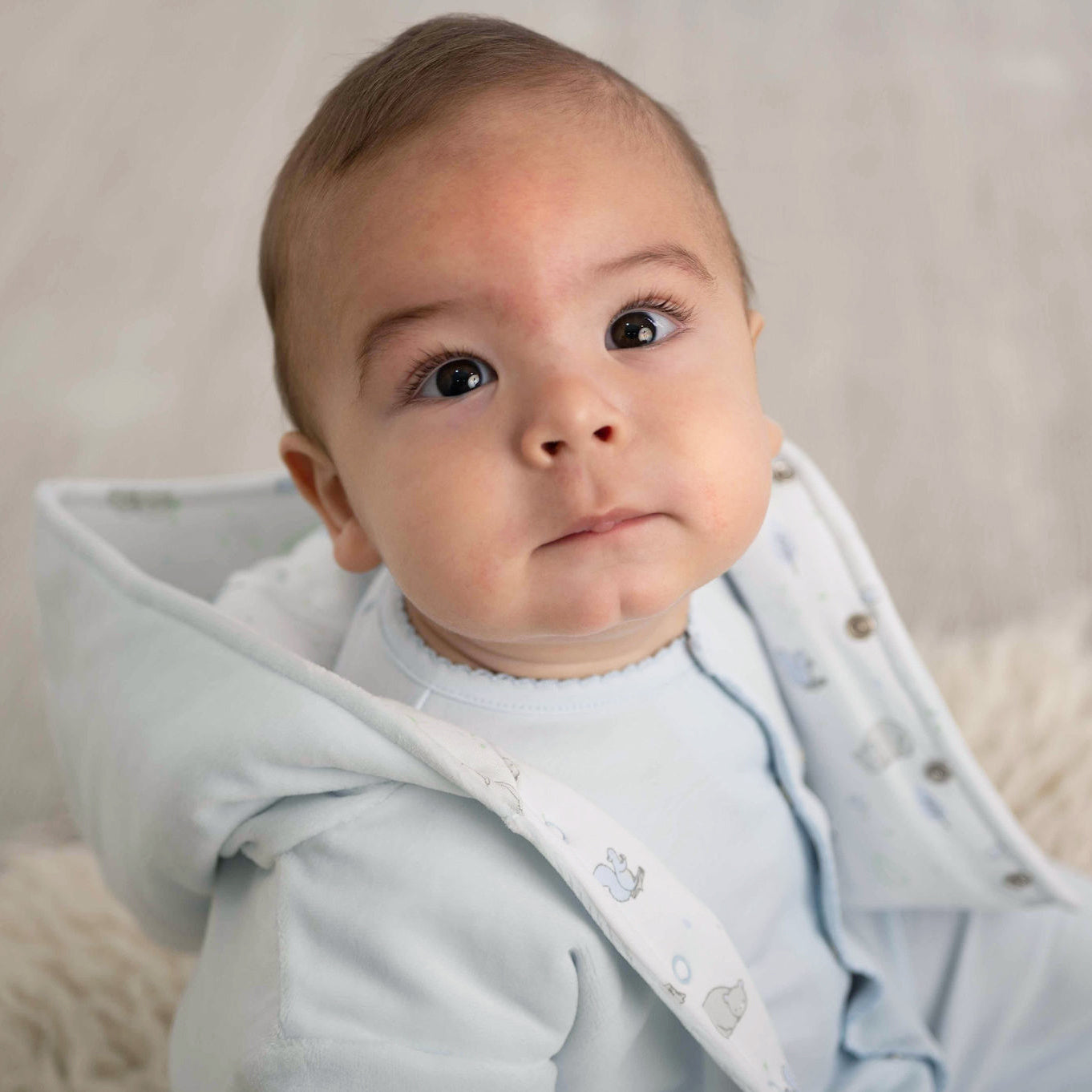 How to Dress a Baby Boy (7 Tips)
Dressing up your baby boy is not just about adorning him in the coolest outfits. A baby's skin is tender, and many factors come into play when selecting the right attire.
In this guide, dive into 7 tips on how to dress your baby boy to ensure style, comfort, and safety.
1) UNDERSTANDING THE BABY BOY'S STAGES OF GROWTH
It might be tempting to turn your little one into a mini style icon, but it's crucial to understand his clothing needs at every growth milestone.
NEWBORN (0-3 MONTHS)
During these initial months, your baby boy will spend most of his time sleeping. Their skin is exceptionally soft and demands gentle clothing. Opt for premium baby onesies (or footies) that cover the baby from the chest down to the toes. Given that newborns often require clothing changes, it's a smart move to have a stock of about six or more.
INFANT (3 - 12 MONTHS)
This is when the adventure begins! Your boy will start enjoying playtimes, so clothes that allow him freedom to move are paramount. Rompers are ideal. They're light, comfy, and crafted for unrestricted movement. Converters are a handy choice for colder days. Remember, sizes typically range from 3-6, 6-9, to 9-12 months. Avoid the trap of over-purchasing a single size.
TODDLER (+1 YEAR)
First steps are just around the corner! Shoes and socks become integral. Little boys look exceptionally charming in joggers or stylish button-up shirts during playtimes.
2) EMBRACE VIBRANT COLORS AND PATTERNS
There are abundant sets with cohesive patterns available for baby boys. Choosing these sets ensures an effortlessly stylish look. While navy blue and classic white are staple colors for baby boys, don't shy away from vibrant shades like forest green, bright yellow, or even coral.
3) AVOID BULK-PURCHASING A SINGLE SIZE
Space is limited in your baby's wardrobe. Since they grow at an astounding rate, ensure a range of sizes are on hand. Before snagging that extra pair of cute overalls, give thought to the size.
4) OPT FOR FUNCTIONAL YET TRENDY BABY BOY ACCESSORIES
Beyond style, ensure each accessory purchased serves a purpose. Caps, for instance, shield them from the sun and add a dash of style. Come winter, warm baby blankets are indispensable. If winter dressing seems daunting, explore our guides on how to dress a baby in spring, winter, and fall.
5) PUT MATERIAL QUALITY ABOVE ALL
Babies have sensitive skin, making the quality of fabric used non-negotiable. Even if it means investing a bit more, always opt for premium materials. Peruvian Pima Cotton, known for its supreme softness and durability, is a top choice for baby boy clothing.
6) MASTER ORGANIZING YOUR BABY BOY'S CLOSET
An orderly wardrobe makes outfit selection swifter and ensures clothes are stored safely. Learn more about efficient ways to organize baby clothes.
7) PICK MACHINE WASHABLE ATTIRE
The label is your best friend. For daily wear, aim for machine-washable garments to make laundry chores less taxing. Discover the softest, machine-washable baby boy clothes made with Peruvian Pima Cotton at Lydababy.com.
Remember, dressing your baby boy is a blend of style, comfort, and practicality. Celebrate each stage with clothes that complement his growth and vivacity!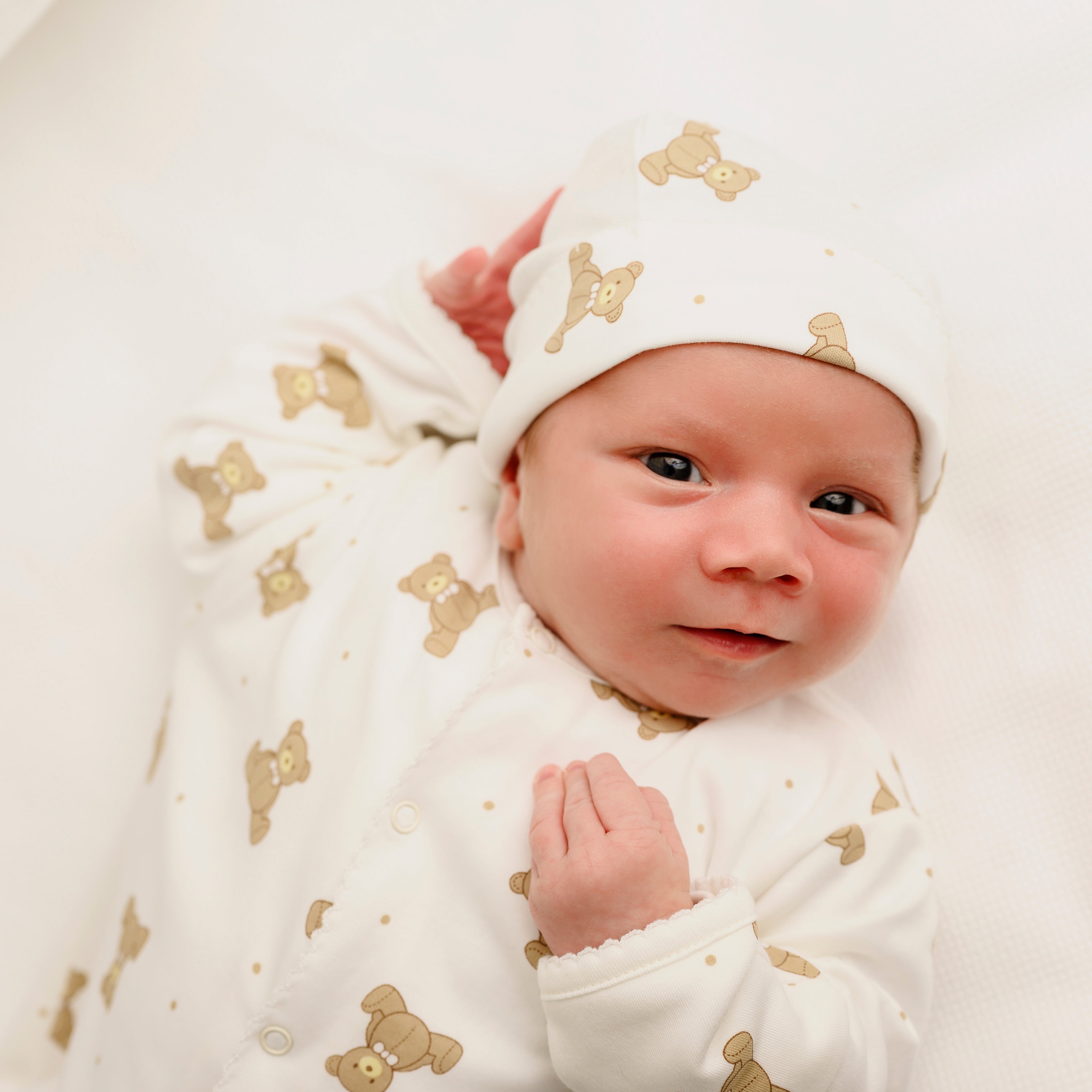 Baby clothing
Learn how to dress your baby appropriately during the fall season. Our guide provides essential tips to keep your baby warm and comfortable during autumn's unpredictable weather conditions, focusin...
Read more