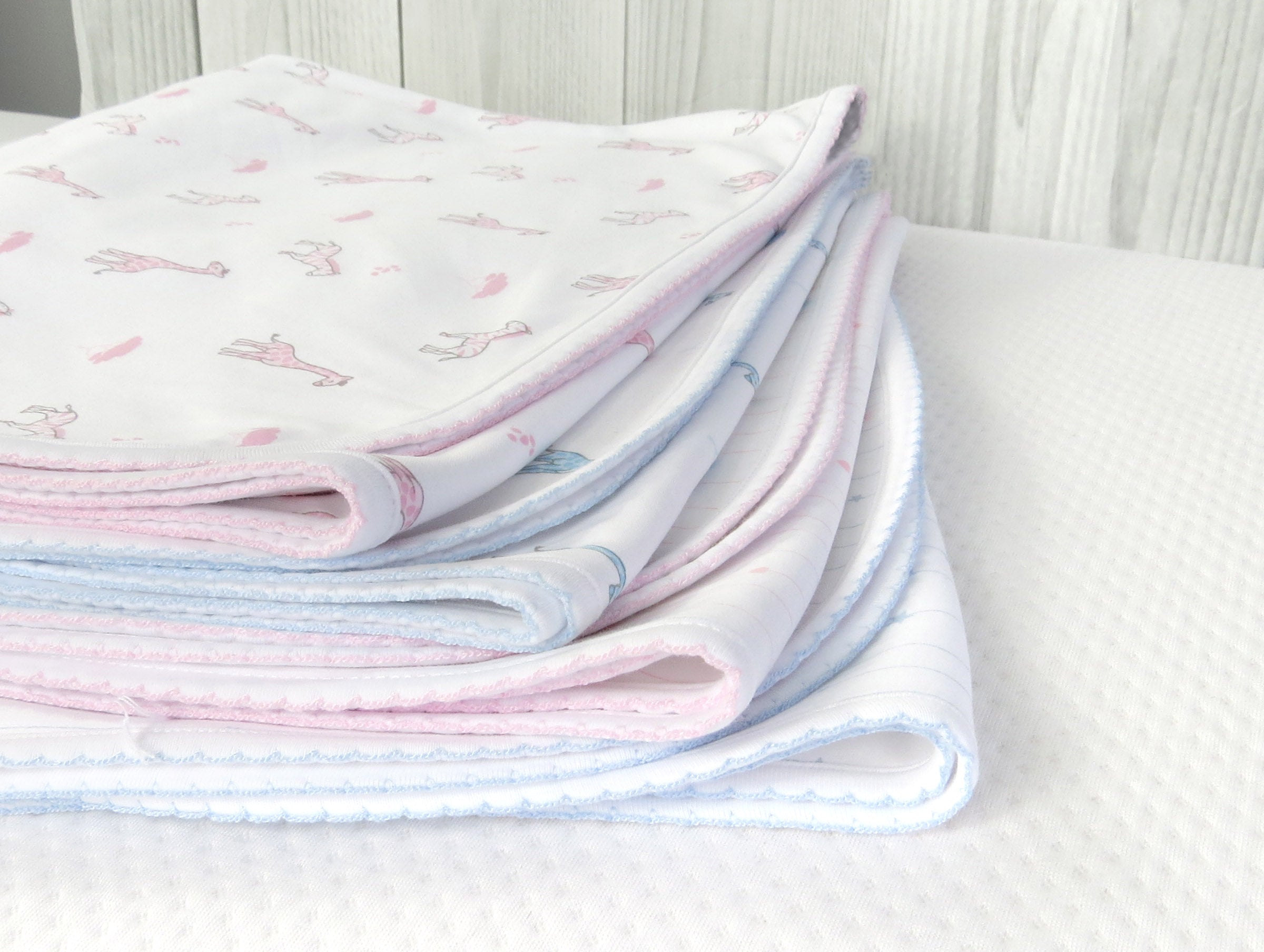 How to organize baby clothes (in 5 simple steps)
Organizing baby clothes may sound like an easy task, but the reality is that many new parents struggle with baby clothes organization and storage.
In this article we'll teach you how to organize baby clothes in 5 simple steps.
1) Pick the storage space
The way you store clothes for yourself may be sub-optimal when you are storing baby clothes. The most common storage spaces for baby clothes are the following, and here is also how to organize them.
Closet with shelves and hanging space
The most common storage space is the classic closet with shelves and hanging space. This can be used for the main clothes like baby onesies, baby pants, shirts, jackets, rompers and almost all the clothes your baby owns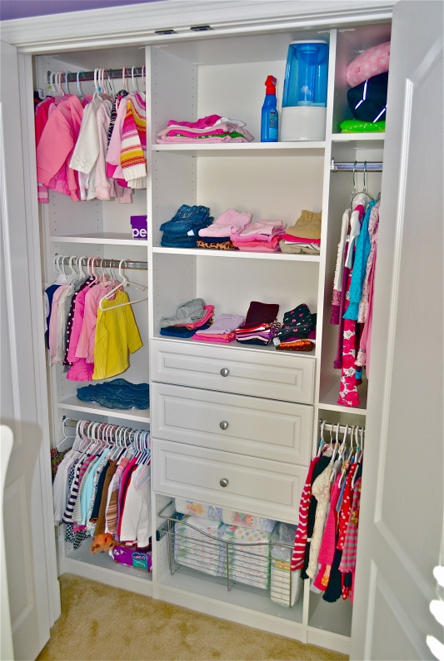 Door shelves
The closet door sometimes could be used to store items like shoes, baby blankets, accessories, and even toys.
Dresser drawers
To optimally store clothing items, dresser drawers are one of the best options if your baby has lots of different outfits.
Under the crib cabinet
Underneath the crib is quite a bit of space that can be used to store clothing. Here you can store the baby's sleep clothes like sleep sacks or footies. It is also common to store old baby clothes in these cabinets.
2) Know what to do with each of the baby's clothes
This is the hardest part. Babies have lots of different types of clothing items that you need to organize somehow. So keep reading to learn how you could do it.
Hang or fold?
You should hang items like baby dresses, coats, and other clothing items that are typically hung for convenience.
You might also want to hang matching outfits while folding onesies, rompers, jumpsuits, pants, pajamas, etc.
When folding the baby clothes that go in the drawers, choose to file fold them. The idea is to "file" baby's clothes, so you can easily find each item.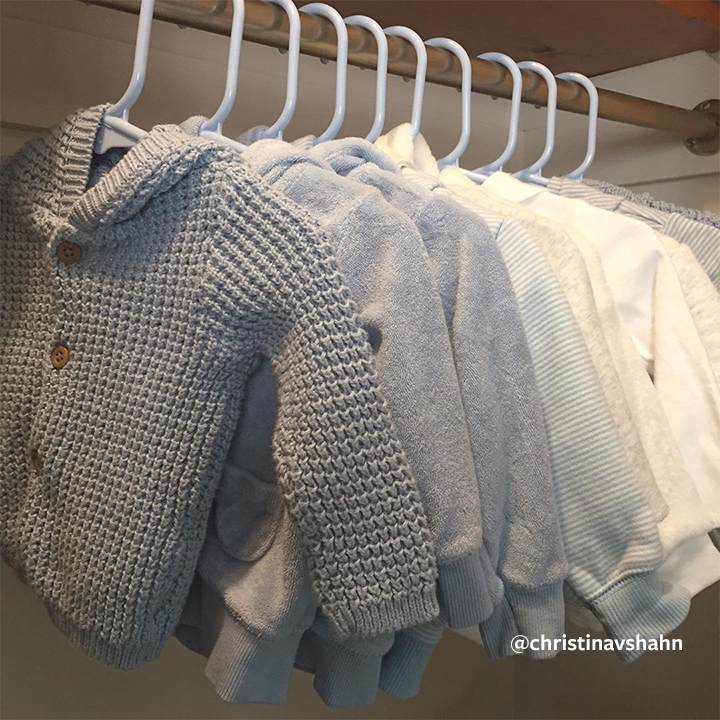 Organize baby clothes by category
Baby clothes can be sorted by season, type, colors, etc. This will make your life easier when looking for specific outfits.
For example, you could put all socks, all onesies, or all diapers in a designed place so you know exactly where they are.
Sort by size
Carefully sort your baby's clothes by size. Once you have done it, hang them up or fold them in the designed space for each size.
Don't shove clothes where they don't fit
Overflowed closets or drawers are never functional. By trying to fit more clothes than you should, you'll only make the process of looking for clothes more difficult. Instead, try adding new storage spaces like under the crib cabinets.
Donate your baby's old clothes
Most of the time, it is useless to store the clothes that the baby can't use anymore. Consider donating those tiny clothes to your local charity or fellow newborns.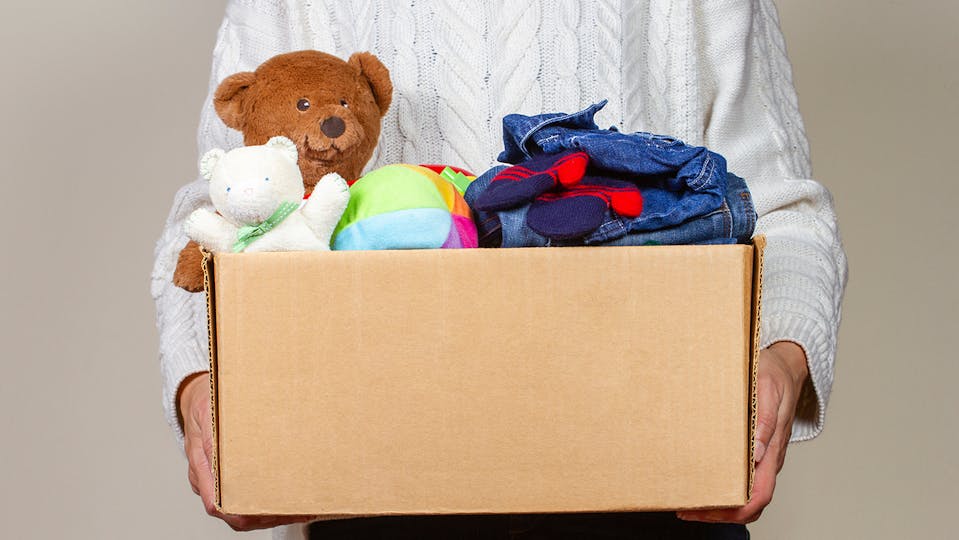 3) Get the right supplies for your baby's closet
There are some products in the market that make your life easy when organizing baby clothes. Here are some of them.
Shoe organizer
Baby shoes may occupy tons of space that could be used for other purposes. Getting a baby shoe organizer is the best way to save space in the closet or even the floor.
Extra shelves
You can create a little extra space with a pretty shelf or two. Here you can put decoration as well as your baby's favorite items.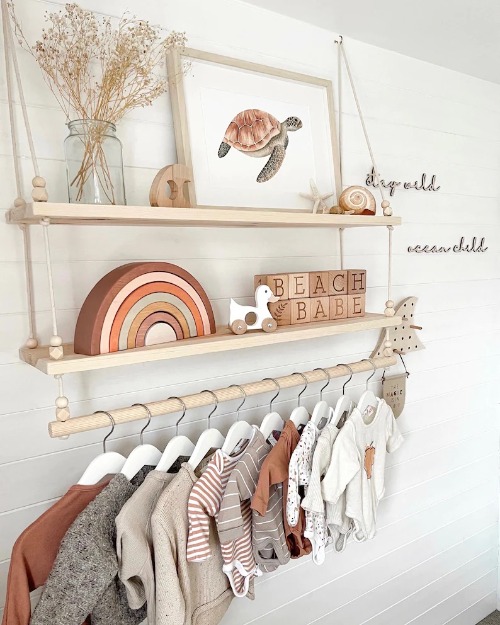 Closet dividers
Use dividers in your closet to label what type of clothing goes where. For example, you can have a divider for each type of clothing in the closet. This will allow you to quickly find the item that you are looking for.
Clothespins
You can find them online or even in the local dollar store. Clothespins are essential to store baby clothes correctly.
Cute baskets
Keep the baby clothes separated by organizing them into baskets. Since they come in all shapes and sizes, you should be able to find one that fits your style and needs.
4) Keep the nursery closet safe, clean, and easy to access
It should be obvious that keeping the baby's closet clean and safe is crucial. But you should also try to make it as easy to access to yourself as possible.
Label everything
When organizing your baby's clothes, label everything! You should be able to read what's in each box or cabinet without having to open it up, search, or look at the different pieces.
Wash your baby's clothes before they wear them for the first time
While adults wear clothes straight from the store without problems, babies probably shouldn't do it because their skin is much more sensitive than ours. Washing baby items that will come in contact with their skin before storing them is a good move for your baby's skin.
Anything stored within reach of the baby must be safe
This may not be something that comes to mind when organizing clothes, but you should always keep security in mind when furnishing your baby's room. So make sure that all the items that are within reach of your baby are safe for them.
5) Get creative
You could always look for matching colors, labeling ideas, or even innovative products on Pinterest, Instagram, Ikea, and other websites. Don't be afraid of decorating your baby's room as stylish as you want.
Now that you know how to organize baby clothes, get the best baby clothes made from pure Peruvian Pima Cotton at Lydababy.com.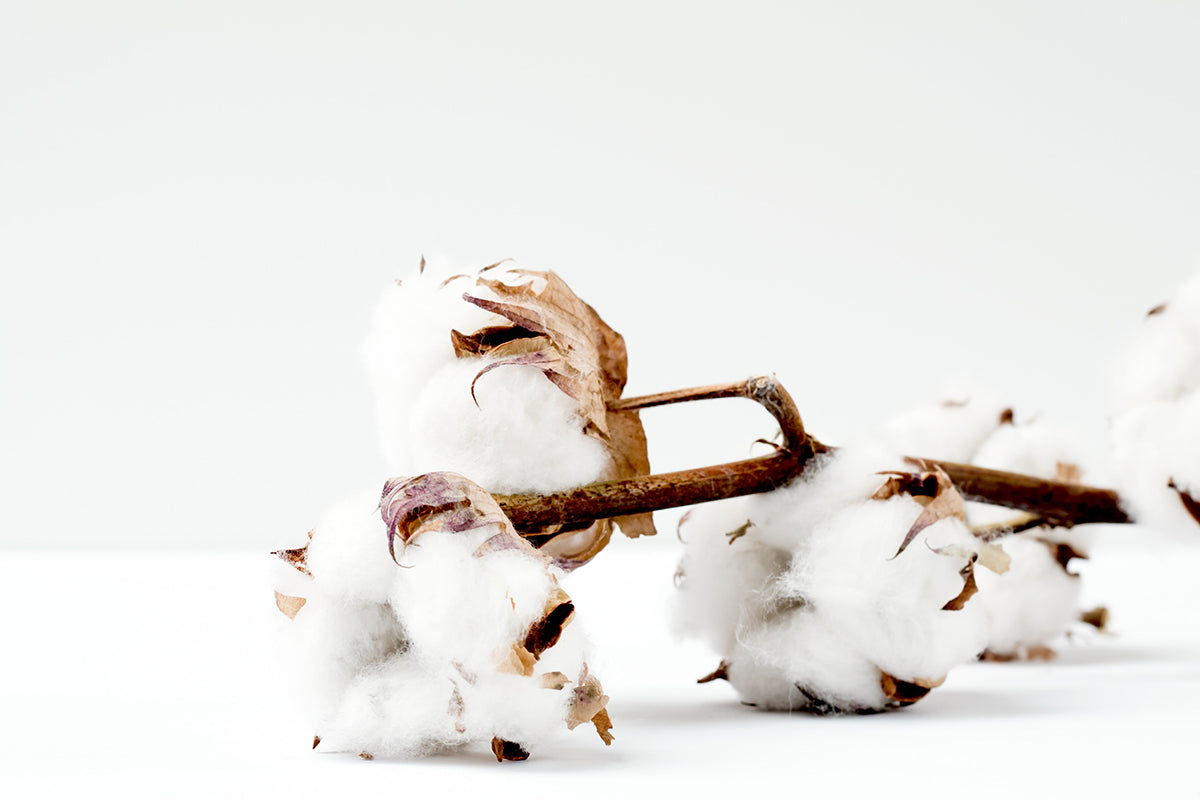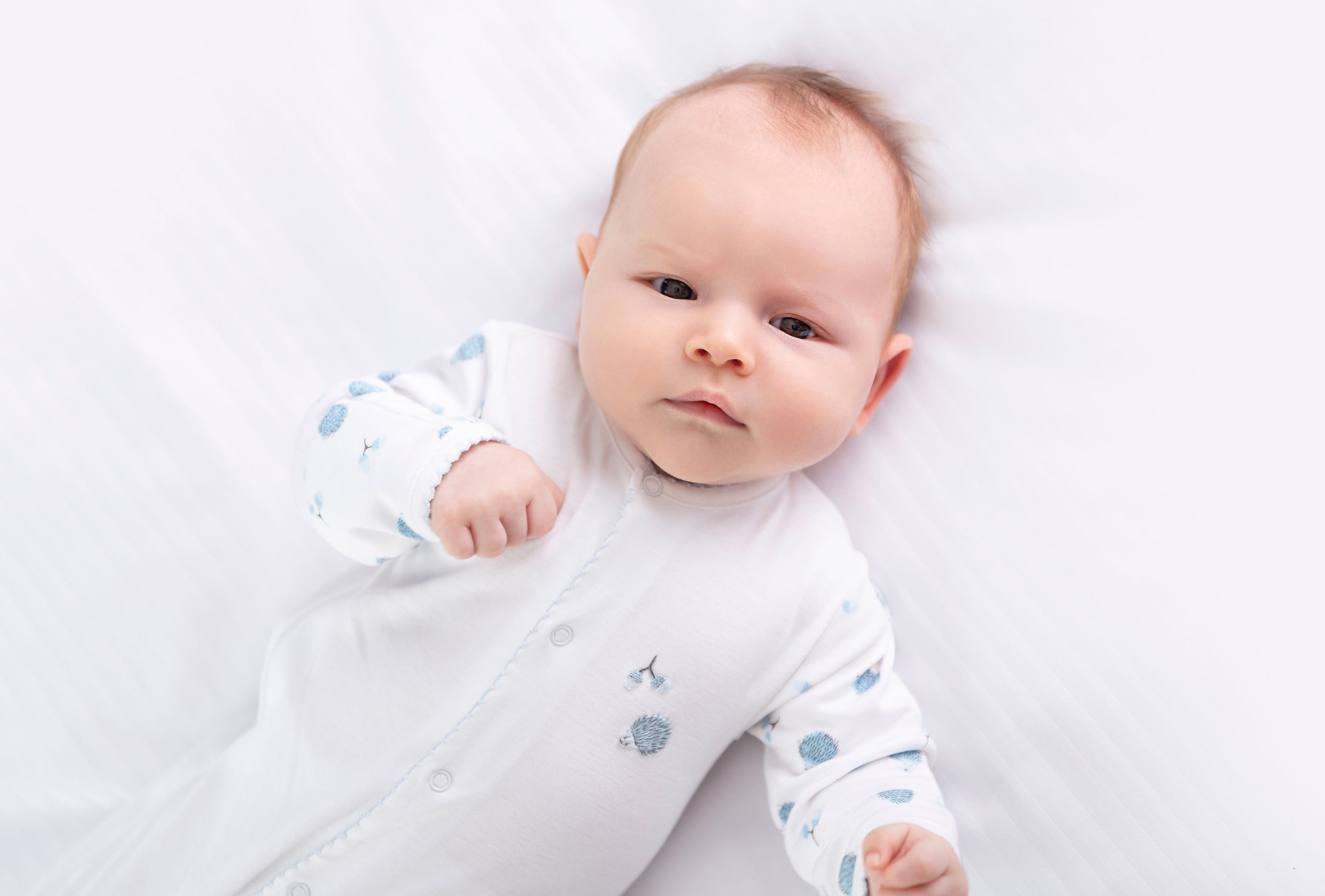 Baby clothing
In this article, we'll teach you how to dress a baby in spring according to this season's peculiar weather.
Read more