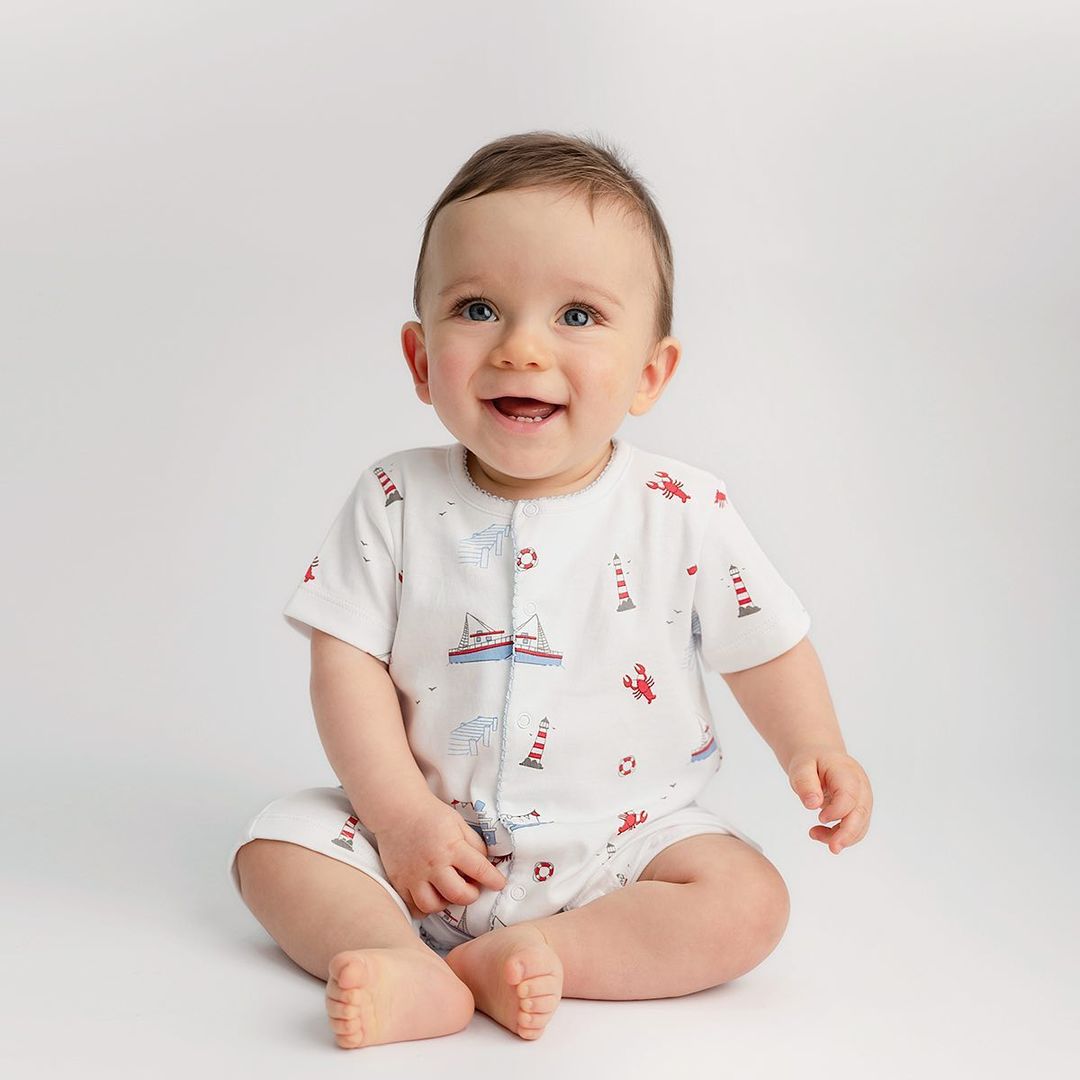 How to dress a baby boy (newborn, infant or toddler)
Whether you have a baby photo shoot or want your baby boy to look fabulous, you sure want to learn how to dress a baby boy for every stage of their babyhood.
This article will teach you how to choose the cutest and most comfortable baby boy clothes.
How to dress a newborn boy (0-3 months old)
In this stage, you should look for the most comfortable and softest products to protect your baby boy's delicate skin.
There is one type of product that satisfies most of the baby's dressing needs when they are under 3 months old: Onesies (also called babygrows or footies). These are super cute and convenient because cover most of the baby boy's body, all the way to their little feet.
These are the best base-layer for any newborn baby. You will need about a dozen onesies because babies in this stage tend to mess up their clothes quickly.
Baby onesies are always good for sleep time for every stage, not only for newborns.
Also, depending on the season, you may need extra layers of clothing to maintain a proper baby's body temperature. For example, you can learn how to dress a baby in winter here.
How to dress infant boys (3-12 months old)
After the newborn stage, the baby will spend more time playing than sleeping. You may start looking for stylish playtime outfits at this point.
The best option for playtime is baby rompers. These are light and convenient for the little guy to enjoy the infant stage while also looking cute.
In the infant stage, bibs also become a necessity because your baby will start consuming solid foods.
Don't forget that for this stage, the common sizes are from 3 to 6, 6 to 9, and 9 to 12 months old. So don't overbuy just one size.
How to dress toddler boys (1-year-old+)
This stage stands out because the baby is most likely learning to walk. So shoes and socks are important.
However, toddlers also spend most of their time sleeping and playing. So you may want to save money while making good-looking baby clothes combinations by buying baby sets.
Also, at the toddler stage, babies tend to go outside more, so consider a jacket for cold days.
The material matters more than anything else
Quality is king when shopping for baby clothing because the baby's skin is super delicate and much more likely to get infections than adults.
Even though high-quality clothing generally means higher costs, quality is the most important factor when deciding what clothes your baby should wear.
Clothes made from materials like Peruvian Pima Cotton are recommended because of their softness and durability.
Some extra tips when choosing baby boy clothing
Here are some extra tips that you should consider when shopping for baby boy clothes.
Buy machine washable baby clothes
This will save you lots of time washing your son's clothes. Remember that babies easily mess up them.
Don't overbuy baby clothing
Babies grow up faster than most parents expect, you won't need too many clothes of one size.
If you already feel like your little boy has too many outfits, learn how to organize them or consider donating some.
Use discounts
If you have a favorite brand or store, sign up for their newsletter. Many stores will send you discount coupons so you can save money with them.
At last, check Lydababy's store to find great deals on the best Peruvian cotton baby boys' clothes.